The lovely canopy bed kit (40014) was available from round one of The House of Miniatures furniture kit line, but that isn't all the beds offered. Two more (40033 & 40060) came out later, plus a day bed (40043), which we will look at in a series of seating articles.
All the Beds offered by
The House of Miniatures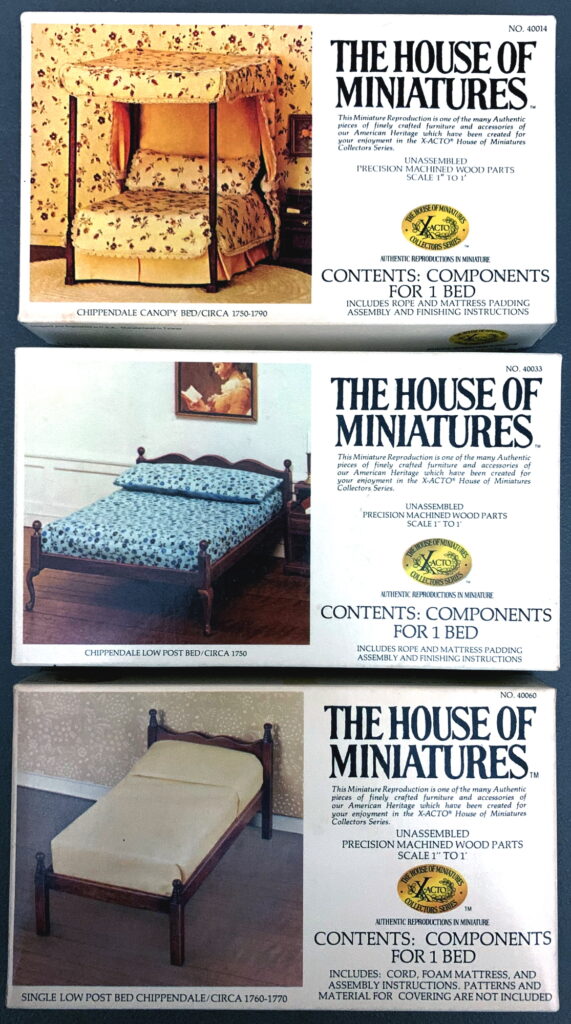 Although there were three beds in the product line, only early Chippendale designs were represented, which makes me believe there were other designs planned, though never released. A heavier, paneled bed and a proper four-poster, at least. Also a non-Chippendale, such as a pencil-post (my favorite) or sleigh bed, to round out the line. Then I'd feel better about referring to them as all the beds of THoM.
Chippendale Canopy Bed (40014)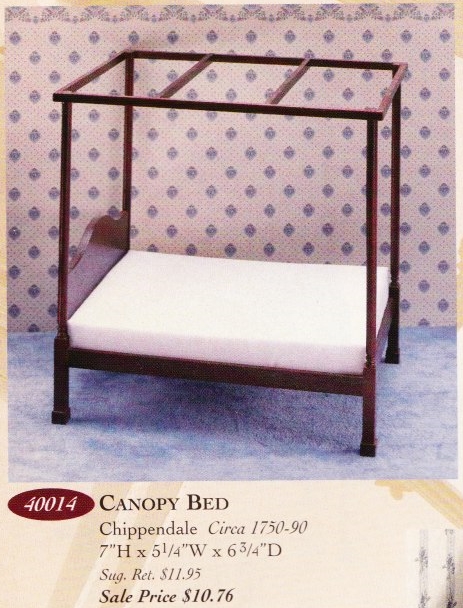 Tens of thousands of these kits have sold, many through the kit-of-the-month "collector" club. I've seen many variations on this theme, proving that it is a versatile design. I've built it in standard form and in a fancier style with a solid wood canopy, attempting something akin to the paneled bed.
Dressing this bed can be challenging if you recreate the canopy and curtain illustrated on the box cover. Several magazines of the time had articles with patterns and other ideas, such as a lace canopy or fixed fabric panels at the head and foot.
Threading the rope is the hardest part of building the kit for most people, but the design lends itself well to adding slats in place of the rope. In the end it is a large piece and seems to over-fill a room. I have four of them in my workshop and they crowd out other furniture on a five-foot shelf.
Chippendale Low Post Bed (40033)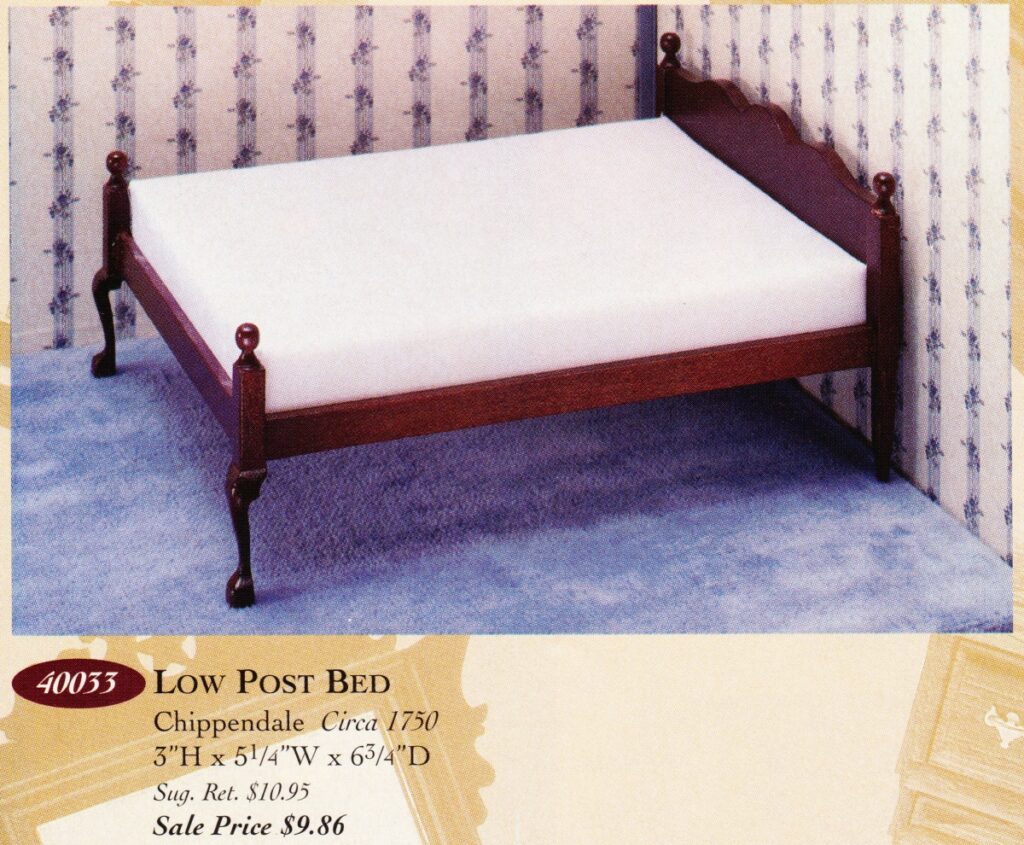 This quaint bed, like the one above, is also full-size (a.k.a. double bed), but doesn't seem to fill a room. We could call the style "cannonball", but the decorations on the post a small and sit well below eye-level, so are not prominent enough to do the name justice.
The canopy bed would be a family piece, but this one would be more at home in a nursery or guest cottage, or anywhere with a lower ceiling. Two siblings might have shared a bed this size in Colonial and early America.
The best feature of this kit is the cabriole legs presenting to the room. They keep it from being plain and give the us a chance to get fancy when building it. Carving claw and ball feet or pad feet would make it presentable in a later or modern period bedroom.
Chippendale Single Low Post Bed (40060)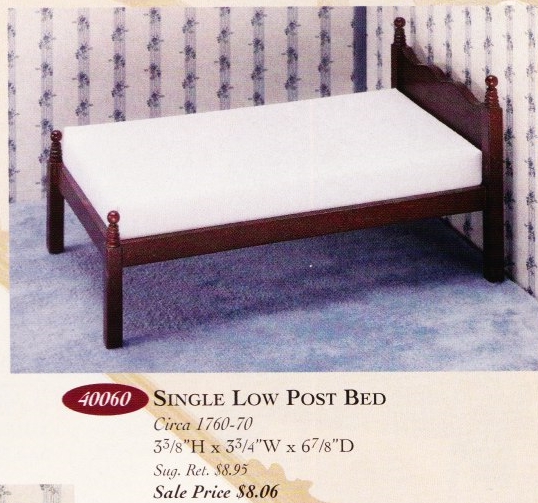 When looking at all the beds, this is the baby brother. Not that it is a child's bed, but it is a lower order of sleeping furniture, most appropriate in an attic room or a public house. It is also the easiest to make, though it still requires you to deal with stringing the netting.
It is not a pauper's bed, though. It is a simpler design, but still has a decorative headboard design and small cannon balls on the posts. The House of Miniatures hinted at the more rustic nature, I think, by not giving it a bedspread or even a pillow in the cover photo on the box. But that doesn't mean you can't give it a fine finish and dress it up beautifully.
Which Will You Select?
The size of the room may dictate that you not use a full-size canopy bed, but any of them can be dressed up (or down) for whatever use you have for them. I've seen one double low post made with a straw mattress in a rustic finish. Another person used a thicker foam to make a higher bed, then put a two-step stair next to the bed. And for dressing the bed, the sky's the limit.
I'd love to see your imaginative variation. I invite you to share your builds on the Facebook Group for The House of Miniatures.