If you have built a dollhouse and built a dozen miniature furniture kits, how many different tools for building miniatures have you used? Certainly more than ten. There's cutting, sanding, gluing, holding, squaring… so many types of tools. Here are the tools I use the most, including how I use them.
This is the second part of this article on tools. Read The Top 10 Tools You Want When Building Furniture (Part 1) here.
Miter Box and Saw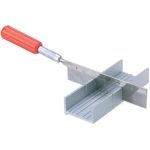 For cutting straight there are many options, but the miter box is one fool proof method. Do I often use it when building The House of Miniatures kits? No, but I do sometimes.
I had a three-drawer dresser kit where the back was too warped to use (the box had gotten damp). I cut a new back out of basswood stock that I got from Hobby Lobby. It had to be cut very square and I used a large, wooden miter box. It came out perfect.
However, I do use my small X-Acto miter box set when scratch building furniture and roomboxes. The teeth on the saw are very fine, which keeps sanding to a minimum. Measure twice and cut once.
Moto Tool (Dremel)
There are SO many ways that I use my Dremel. I have two standard tools and a rechargeable. Plus I have many accessory units (drill press, router table, circular saw, flex shaft, etc.) I get a lot of use out of moto tools and Dremel is the best.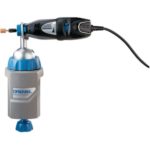 However, for miniature furniture, I have to recommend one accessory that made me a better miniaturist. The Dremel Multi-Vise is a superstar for miniatures. I used to try to hold the work in a vise and move the tool. But it is much better to let the vise hold the tool so you can hold the piece you are trying to work!
Magnifier Lamp
Maybe you have perfect eye sight and great detail vision. I used to. My mother used me as her automatic needle threader long before her sewing machine had such a thing. Now I'm not even sure there's a needle, never mind and eye!
Years ago I picked up a fluorescent magnifier light second hand, but when it died I finally got a large, LED magnifier arm that is better than a new set of eyes. Truly, stop squinting and get one of these. And not just for minis. They are great for splinters, reading tiny tags, and even for threading needles.
Twist Drills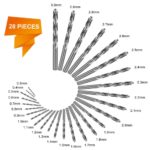 Sorry for the sticker shock on the magnifier lamp, but here is a tool you will get a lot of use out of, but that won't break the budget. A pin vise with twist drill bits is cheap, but you'll sing its praises every time you add hardware to a THoM kit.
One thing to look for; be sure the drills go down to 0.3 or 0.4 millimeters. That's the right size for the mini hardware. Some kits start at 0.6mm, which is too big for the tiny bales.
Tweezers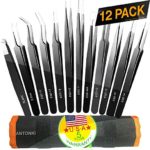 Working with tiny things for many years (I had a camera repair shop in the 1990's), I've collected a lot of tweezers. And none look like the pair in your bathroom drawer.
When working with minis you will want long, short, curved, bent, angled, serrated… there's a wide range of "finger extenders" that will help out. You don't need the expensive ones, but you don't want the ones from your dressing table, either.
Not What You Expected?
To write this article, I literally sat at my bench and reached out for the tools that I use regularly and could not do without. Were you expecting something different on a list of tools you want when building miniature furniture? Is your top 10 different? Tell me what you would replace on my list. Use the comments area below or visit the Facebook page.