Are you ready to build your first kit? Will you be introducing someone to the hobby? When you are just starting out, what House of Miniatures furniture kit should you build first? I hear these questions often, so here are a few good options.
There are some easy kits with only a few parts. Like a candle stand or a fire screen. Those are super easy, but are they interesting enough to give a sense of accomplishment? But as an experienced kit-maker let me offer a few better suggestions.
40003 – Chippendale Hutch Cabinet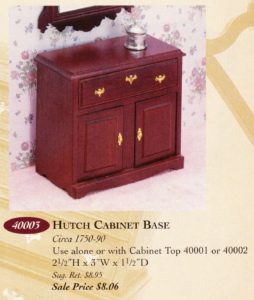 When you build this kit, you will use most of the skills that will be necessary for any kit. You will build a drawer and learn to build it square so that it will work well. You'll hang doors and install hardware of two common types. And you will need to build a solid and square frame. All of that is great practice for bigger kits. And finally, you can learn how to apply a great stained finish. And it is cheap enough not to be a big loss to a small disaster.
40012 – Chippendale Night Stand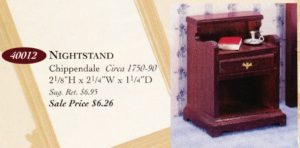 Build this kit with a child and you will give them a win that they will remember. It has most of the parts mentioned above for 40003, but without the fussy doors. It has only one piece of hardware to line up. And only one drawer to build. It may not be big enough to satisfy the curiosity of an adult. But younger children will be proud of it.
40011 – Chippendale 3 Drawer Chest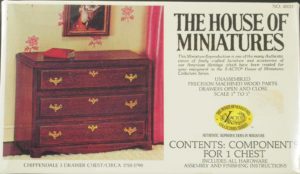 I have built a lot of these. They are not daunting, but they are not too easy. If you have built kits or made miniature furniture from scratch before, start here. It has three drawers and lots of hardware. The frame must be perfectly square or the drawers will hang up. It is also a challenge to get the finish (and the hardware) even across the three drawers. But it teaches the skills you will need before you tackle the chest-on-chest, the slant front desk, or a highboy.
When building any of these, you may also want to refer to my articles on glues, my post on stain finishes, or working bale hardware. And I even have a full article on kit 40011. And here is an article that mentions some other simpler House of Miniatures kits.
Also, your opinion could be just as helpful as mine. So, please leave a comment if you have suggestions for beginners. What would you suggest if you want to build your first kit. And if you are looking to pick up any of these or other kits, you can always find reasonable prices and great service on my miniatures store.