Frustration
One of the questions that comes up most often for builders of The House of Miniatures (THoM) kits is: "Do I stain or glue first?" Should we stain the pieces before building or build and then stain. The instructions say to assemble your kits, then stain. That is because glue does not stick well to the oily stain. The glue can't sink into the pores of the wood well when stain is already in there.
However, you will soon find out that stain won't sink into glue, either. That means the best thing would be to never get glue anywhere but inside the joint you are gluing. But there is always some that squeezes out or gets into the wrong spot. And even if you wipe it off right away it has still sunk in, at least to some degree, which will make your finish uneven. Are we doomed to blotchy finishes on stained pieces? Is the best answer to just paint our completed kits? No!
Tinted Glue to the Rescue
The right answer is: tinted glue. If the glue is a near match for your stain then you can sand it down and blend it in when it is time to apply the finish. You can purchase small bottles of dark tinted glue from our sister site, TheHouseOfMiniatures.com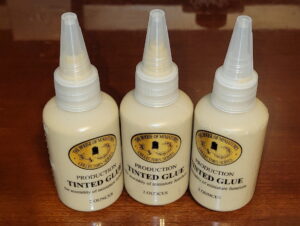 Stain won't penetrate glue, so the seams (and the glue that seeps out of the joints) need to be close to the color of the final finish. In the pre-stain image below is the Chippendale Flat Top Highboy, THoM kit #40022 I wanted to stain it a dark, walnut color (second image). You may be able to see the dark blotches in the joints of the first image. Just as you can see the dark against the unstained wood, if I had not used the colored glue you would have been able to see the bare wood color against the dark stain on the finished build.
Now let's go build better kits!