Welcome to part 2 of my Miniature Furniture Resources article, where we finally get to the five top references. Were you able to guess which magazine made it onto the list? If you read Part 1 of my Top 10, you may already have discovered some gems.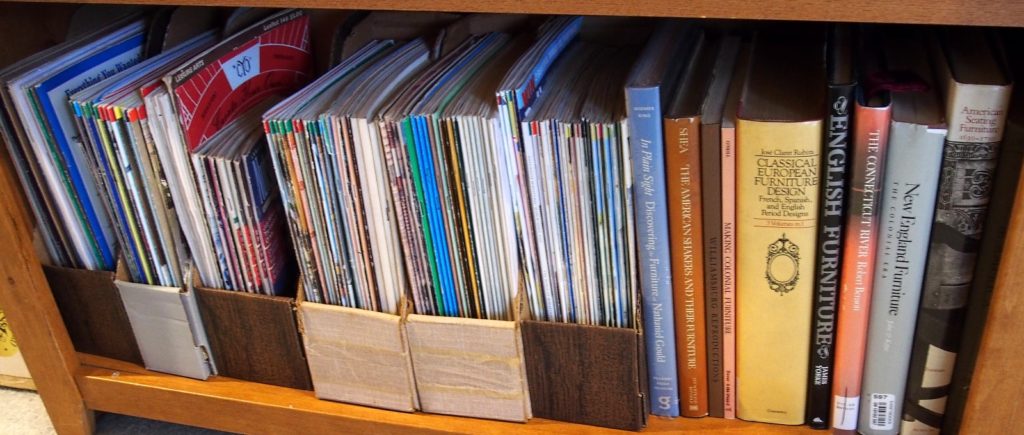 In part 1 I mentioned that 8 of my top 10 favorite references are books [note: the book images below are affiliate links to Amazon.com] . When I open a web browser it often leads to distraction more than enlightenment or inspiration. With a reference book I find myself in a deep dive. And that is where I want to be when I'm enjoying time with miniatures, don't you?
Now, let's get into the top half of this Top 10 list…
5 – Measured Drawings of Early American Furniture
This is exactly what it sounds like. The Osburns took the time to painstakingly measure and draw about 30 pieces of American heritage. They even detailed the joinery. As a result you and I can recreate, in full or in scale, these amazing pieces of practical art.
Several of the furniture items from The House of Miniatures™ are represented here. This includes a shield back chair, a Duncan Phyfe table and chairs. There's a pier mirror and a tilt-top table, too. There's even a tall clock and a desk-on-frame.
4 – The Gentleman & Cabinet-Maker's Director
This is a collected reproduction of the design pamphlets that Thomas Chippendale published in the 1700's. There is a plethora of extravagant ideas here. This book contains fanciful designs from cover to cover. It shows idea for ordering bespoke furnishings, and much more. Things like columns and mantels listed among chairs and chests. Even mirror frames and clock cases!
The designs were used by generations of cabinetmakers to plan actual furniture. It is nothing like a book of plans, as you might expect. These drawings were seldom built as seen. Instead, elements were lifted and used in designs based on the skill of the furniture craftsman. Consequently, the level of detail would be determined by taste and the pocketbook of the customer.
When I first delved into my copy, I was disappointed. Later, as I looked at more furniture, I recognized the concepts and saw them in many antiques. It turns out that Chippendale was a designer who sold plans, not a furniture maker. The skills are very different. Look into this reference to catch the dream. Then consult your own skills to see what is doable.
3 – Making Miniature Furniture
The title is straight to the purpose. If you are building your library of miniature furniture resources, what better title to own! And it is an excellent treatment of the furniture building process. From planning to finishing, Mr. Davenport covers everything. Great treatment of tools as well as methods. Excellent reference on joinery, too.
There are some projects, but this is not mainly a project book. This is a reference to have on hand when learning a new skill or planning a project. I consult it when mapping out my steps. This is the second best book on miniature furniture I have found to date.
2 – The Scale Cabinetmaker Magazine
Any book would be hard pressed to compete with a magazine that had a 20 year run! Starting in October 1976 and wrapping up at the end of 1995, Dorsett Miniatures / Dorsett Publications published this quarterly magazine as a scholarly journal. It seems like they covered every aspect of woodworking in miniature, from houses to furniture to accessories.
Some of my favorite articles are the THoM "kit bash" guides. I've located 8 of them in the index to the magazine. So, I've listed the kit name and the magazine issues below.
Vol. 1, #4 : Kitbashing X-Acto's Cupboard and Drysink
Vol. 2, #1 : Carving a Ball & Claw Foot on a Cabriole Leg
Vol. 2, #1 : Chippendale Tea Table
Vol. 2, #1 : Kitbashing X-Acto's Arm and Side Chair, Wing Chair and Sofa
Vol. 2, #2 : Modifying an X-Acto Kit Lowbo
Vol. 4, #3 : X-Acto Queen Anne Tea Table Kitbash
Vol. 5, #4 : Kits & Pieces, X-Acto Chest and Mirror Kitbash
Vol. 8, #2 : Distressing the Finish on a Kit Settle
On this page, I tell more about what each article covers.
The magazines are often for sale on eBay and Amazon, but they are also available in electronic form on the Dorsett Publications website, along with other publications they came out with through the years.
1 – The Art of Making Furniture in Miniature
Harry W. Smith was one of the most accomplished miniaturists of the twentieth century. He was trained as an artist so his eye for detail was impeccable. He did some commissioned work for Narcissa Thorne in the early 1960's and continued to create amazing miniatures through the early 2000's.
Harry lived in Camden, Maine in later years. So, I encountered him once while I lived there. I was working on my Maine Miniatures website and was intending to feature him. He was certainly the crown jewel of the miniatures scene in our state.
However, he declined to be interviewed, on the grounds that he had become sick of miniaturists. Nonetheless, his book is THE BEST on the subject that I have found (or heard of). First of all he starts you with the basics, including wood characteristics. Then he teaches you about the tools, their care and use. He also covers many crafting techniques. And finally, his notes on finishes are outstanding.
Reading this book probably gives you the most insight into what it was like creating the furniture in the Thorne Rooms or the Queen's Dolls House. My "perfect bound" copy is falling apart, so I'd like to find a hardcover someday.
This is My List…
I have shared with you my current Top 10 favorite miniature furniture resources. Please share with me some of yours. Do you disagree with me on the top 10? I don't mind, let me hear your favorites and your reasons why. Leave a comment here or on my THoM Facebook page. Persuade me.