In October I accidentally paid a visit to the Midwest Miniatures Museum. It is located at the Gilmore Car Museum near Kalamazoo and Battle Creek, Michigan. I was making a short trip to mark my 35th wedding anniversary. My wife agreed to a side trip from Kalamazoo up to the Gilmore Car Museum near Gull Lake.
Hidden Museum
The Gilmore folks have transformed an old farm into an amazing series of museums. There's a Model A building, a Lincoln building, a Pierce building. Also, there's an entire room full of Duesenburgs! But nestled in the midst, surrounded on three sides by the Gilmore, you'll find the Midwest Miniatures Museum. MMM is not affiliated with Gilmore. But you can bet 75% of their visitors are people who stumble on it while visiting the old cars.
Midwest Miniatures Museum
Then I stepped into the farmhouse that serves as the museum. It is sitting on the side of a picturesque road. I said to myself: "I'd wager that a collection of dollhouses and room boxes that size contains a few House of Miniatures kits." Yes, much of what was in there was artisan made. But at least three of the beautiful displays contained furniture built from THoM kits. What do you see in the first picture? The room box filled with them!
So, enjoy the picture gallery for a while and I'll have a few closing comments at the end.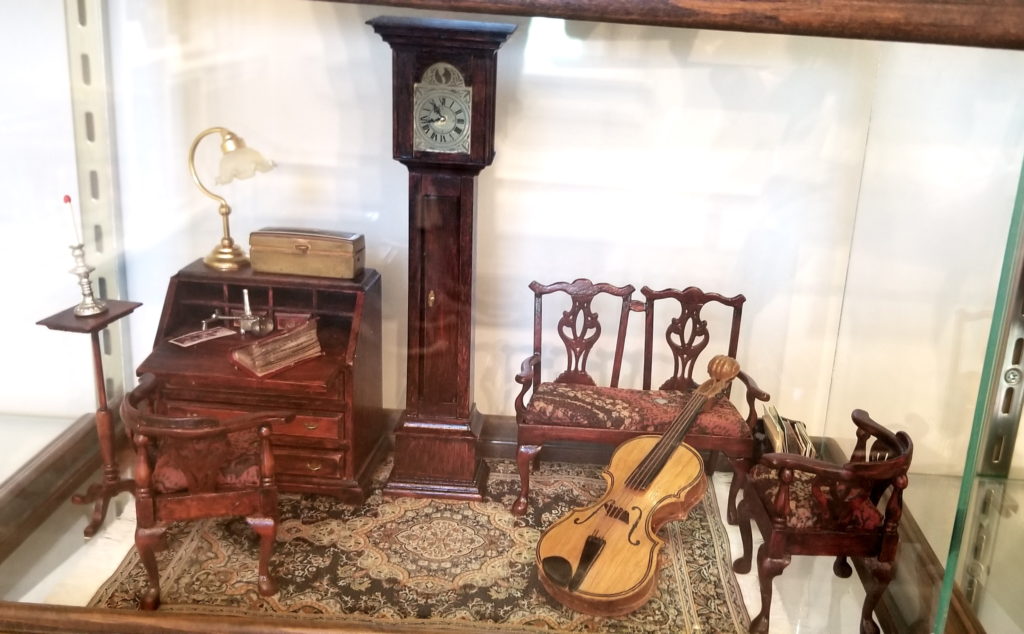 What do you think? It seems like a perfect pairing. Finally, something for everyone: a car museum for the auto enthusiast in the family, while the miniaturist gets some eye candy, too. I call that fair and balanced!