The House of Miniatures Kits
This is the second part of the Risley Collection. In Risley Collection Part 1 I did a complete overview and talked about why this is a typical miniatures collection. Today we will concentrate on the THoM pieces in this collection.
Built Furniture Kits
Mrs. Risley was a member of The House of Miniatures Collector Club for several years. She appears to have received every kit in the club. She also had a few duplicates and some kits that were not included in the club, such as the Slat Back Chairs.
This video is an overview of the collection. I set out the built kits behind the house (beginning of video), including some broken items. All of them are dusty from years of storage just sitting in the house.
There are 31 completed kits here. There are actually 33 empty boxes (the last stack in the video), suggesting that Mrs. Risley gave away a few pieces of furniture. Or the kitten who attacked the house may have gotten a couple.
Some uncommon pieces among the built kits are the Lyre-Back Chairs and the Queen Anne Wardrobe. The rarest of the built kits are 40079, the Huntboard, and 40082 and 40083, the Queen Anne Side and Arm chairs.
Unbuilt Furniture Kits
In front of the dollhouse are 44 unbuilt furniture kits. Most are still sealed, but some are boxless. There are also two THoM decanter and goblet sets, both brass, and a set of brass door hinges from the official The House of Miniatures products.
The gems in the Risley Collection are sealed kit numbers 40022, 40023, and 40048. These are the Straight-Top Highboy, the Broken-Bonnet Highboy and the Breakfront, respectively.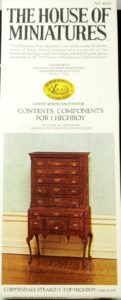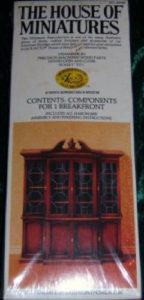 Summary
There were approximately four years worth of monthly kit shipments in the Collector Club. The Risley Collection contains 77 kits and three accessory items. Mrs. Risley purchased some items at local shops and some at shows, so she may have acquired the dupes that way.
In a couple of weeks I'll do an article on the dollhouse and the non-THoM miniatures. Later, maybe a year from now, I'll do a final article covering the repairs and final disposition of the Risley Collection.
It looks like Mrs. Risley stayed in the club right to the end. How about you? Were you ever a subscriber? How long did you stay with it? I only received about six kits before I ran out of money. Did you last longer than I did? I'd like to hear about your experiences, so please comment below or over in the Facebook Group.