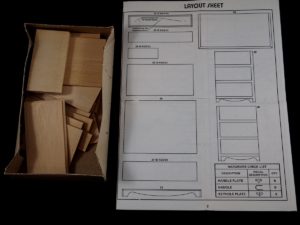 The House of Miniatures Instruction Sheets
The House of Miniatures instruction sheets are very good. Remember, they wrote them to help you build the kits "as seen" on the boxes.
House of Miniatures Instruction Sheets are a Tool
Therefore, if you want to build your kit so it looks like the picture, let them be your guide. Preparation, fitment, alignment, assembly, and finishing are all covered, and you can even inventory the parts with the layout sheet. Read all the instructions and you will make a lovely model. If you'd like a bit more help, then try this article on finishing. As with all instructions, take the best and leave the rest.
However, if you want something other than what you see on the cover, here are some ideas for how to stray from the "rules" and be a little more creative.
Painting: Authentic or Modern
Admittedly, I am a traditionalist with antique furniture. I cringe when someone says that they want to paint their highboy mossy green with floral accents. But these kits are only models of antiques. And everyone has their own taste.
Jappaning
Conversely, I've seen some beautifully painted House of Miniatures kits that I would be proud to own. I've seen painstaking traditional treatments with paint. For instance, "japanning" was popular in Europe and England, even in Chippendale's day.
Japanning means applying a lacquer-like finish and stencil art to wood furniture. You start with a high-gloss black, stencil it with birds or oriental scenes, and you have an authentic and beautiful miniature. If you want to do an oriental room, then you could start with a high-gloss Japanese red. But watch out for the green finish; they reserved it for the royal family.
Other Finishing Styles
Do you like shabby chic? Can you do it well? Do it. Country French? Small Chippendale and Queen Anne pieces look lovely in a country white with gold accents. Finishing your kits in your style is your prerogative. So do it well and you will have an heirloom to share that not only shows off a quality miniature and your skill, but also your personality.
Missing Instruction Sheets?
On the catalog pages of TheHouseOfMiniatures.org, you can find individual instruction sheets in each product page to download. If you would like to have the entire collection in PDF form, they are also available in bulk on the digital download page of TheHouseOfMiniatures.com