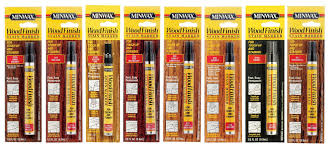 When staining miniature furniture, control of the amount and location of application are chief concerns. Precision is required in order to control the evenness of the final tone. Rags, swabs, and small brushes are all useful in the process, but I have found nothing so quick, clean, and precise as stain pens, which is why I want ed to do a stain pens review. (For a general how-to on stain finishes, please read Create Perfect Period Finish in Miniature)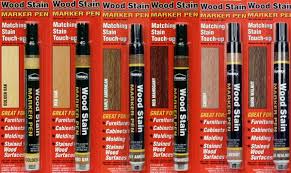 On an ounce-for-ounce basis, stain pens are obviously the most expensive way to purchase stain. You are paying for the tool, not just the stain. The tool is both a storage container and a delivery method, and an excellent delivery tool at that. The tips are small and chiseled so that a wide or narrow or spot application can be made.
The medium of the tip is quite hard and leaves behind a thin layer of stain. In the case of the Minwax brand of pens, there is generally no dripping or puddling of excess stain. You get the precision of a brush with the even coating of a rag, but with none of the rag mess, like stained fingers. You don't need to use gloves with them. And no returning to an open container to load more stain.
I've used other brands than Minwax, but with mixed results. Some seem to use a thinned out version of their stain or are a lesser quality of tint. I had one that tended to leak and one that is a very odd color, not matching the same color code in a can.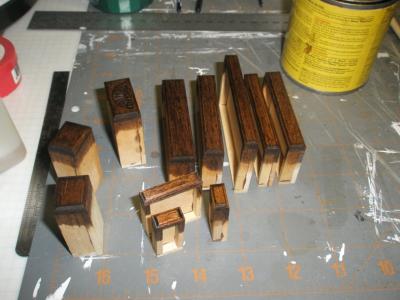 My technique varies with the size of the panel I am staining, but generally I use the stain pens on small, square surfaces, edges, and pieces. On larger or more complex surfaces I may do the first coat with a brush, wiping afterward with a rag. Subsequent coats on the flat surfaces usually call for the pen so that I can achieve just the right tone and build the flats up to the shade of the curves and edges.
In light use, stain pens will keep for several years. With heavier use there is also a method for refilling. I've tried it, but by the time I've used up the stain I have often used up the tip, as well.
I highly recommend the Minwax brand. Have you used them? What's your opinion? I'd like to hear your comments below or over on the THoM Facebook page.